To assist independent workshops in debunking the "urban myth" that you must get your car serviced at an authorised dealership and use only "genuine" parts or you'll risk voiding you new car warranty, the AAAA has produced a brochure titled The Truth about New Car Servicing – A Workshop Guide to Explaining the Facts. This brochure provides important information on every car owners' rights under Australian Consumer Law as well as your obligations when servicing an in-warranty vehicle. It is important to point out that the ACCC have reviewed the content of this material and have indicated that they have no concerns with the accuracy of the information being provided.
CLICK HERE to download 'The Truth about New Car Servicing' brochure
CLICK HERE to download 'The Truth about Genuine Parts' brochure
CLICK HERE to download 'The Truth about Capped Price Servicing' brochure
CLICK HERE to download the 'Truth about Vehicle Modifications' brochure
We have also produced a Frequently Asked Questions document that is designed to be customised with your own business details and given to your customers to provide them with the facts and to give them peace of mind.
CLICK HERE to download the 'New Car Servicing FAQ' sheet
We also have a 'New Car Servicing Customer Education Pack'. If you would like one of these please email admin@aaaa.com.au to request yours today! Details of what is included are below:
Each kits consist of: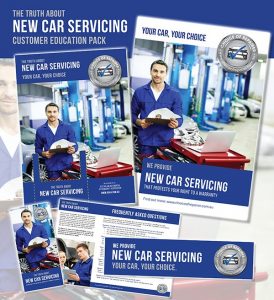 An A2 Poster
A door/window sticker
25 "truth about  new car servicing" customer education brochures
A counter top free standing display board with die cut brochure holder
1 x truth about genuine parts and 1x truth about capped price servicing brochures.
The kits also come with complimentary legal support via the AAAA legal service if a customer has a valid warranty claim rejected on the basis that the car was serviced outside the dealership and / or had aftermarket parts fitted.